South and Southeast Asia regions (SESA)
Gender and mainstreaming training session in Sri Lanka for National Standards Institutions and engaged stakeholdersSIS is implementing a regional programme in the south and southeast Asia incorporating eight countries; Bangladesh, Nepal, Pakistan, Sri Lanka, Cambodia, Indonesia, Laos and Vietnam aiming to promote trade through standardisation.
The programme consists of two main components; standard setting with focus on strengthening capacity in the National Standards Institutions and increase the cooperation between the Standards Institutions and private/public sectors. The second component is standard implementation where the practical usage of standards in already existing or potential future export sectors is of focus. Three pilot studies have been implemented, ISO 13065 on sustainability criteria for bioenergy, ISO/TS 14067 on carbon footprint of products and ISO 14001:2015 on environmental management. This is to support the capacity building activities are directly linked with practical and ongoing standardisation processes as well as promoting sustainability, trade, environment and economic development.
The programme commenced in July 2012 and is going on until December 2016 with financial support by the Swedish International Development Cooperation Agency, Sida.

Agadir region
SIS is under the leadership of Swedac (Swedish Board for Accreditation and Conformity Assessment) implementing a regional project in the Agadir region, incorporating four countries; Egypt, Tunisia, Morocco and Jordan.
The overall project is aiming to strengthen the harmonization of quality infrastructure between the countries with three main pillars;
1. Harmonization of mandatory requirements and trade regulations (implemented by the National Board of Trade)
2. Harmonization of voluntary standards (implemented by SIS)
3. Harmonization of accreditation systems (implemented by Swedac).
SIS is working closely with the National Standards Institutions and different stakeholders in the region to improve the systems and structures necessary for harmonization of standards. The process also includes looking into the structure within the European standardisation system (CEN/CENELEC) as well as the regional standardisation organisation, AIDMO as well as the Agadir Technical Unit, ATU.
The project is under implementation until August 2018 with financial support by the Swedish International Development Cooperation Agency, Sida.

Economic Community of West African States (ECOWAS)
Regional Workshop on ISO/TC 34 Food products in Paris, France The ECOWAS-ARSO-SIS project is a joint collaboration between ECOWAS (Economic Cooperation of West African States), ARSO (African Regional Standards Organisation) and SIS.
The project commenced in June 2016 with financial support by Sida and is aiming at building capacity on international and regional standardisation procedures and improve the active involvement in development of ISO standards. All National Standards Bodies in the fifth teen member states of ECOWAS are involved in the project and throughout the project lifetime stakeholders and experts representing private and public sector will be actively involved. To make the capacity building more explicit and concrete, the countries have agreed and selected two ongoing standardisation processes (ISO/TC 34 on Food Products and ISO/TC 59 on Construction) as pilots as these sectors are of specific value and relevance to the region.

East African Community (EAC)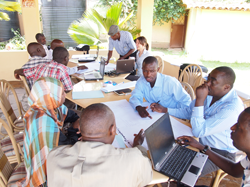 Implementation of ISO/TS 14067 Carbon Footprint of Products in UgandaSIS project in the East African Community (EAC) is currently on a bridging period between phase 1 and a potential phase 2.
The project has developed to focus more on strengthening an active participation in the international standardisation process, as the capacity on national and regional levels have been increased during phase one. The project is also aiming at increasing the practical usage of ISO standards among private and public stakeholders to promote trade, increased regional cooperation and sustainability.
The current phase is going on until mid-2017 with financial support by the Swedish International Development Cooperation Agency (Sida) and in partnership with the EAC Secretariat.
---